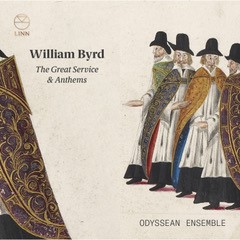 New CD of Byrd choral music from the Odyssean Ensemble.
The Odyssean Ensemble, directed by the Master of Music at the Chapels Royal, HM Tower of London, Colm Carey, have just released a CD of little known music by the great English composer William Byrd (1538-1623). The Great Service is a rather neglected work of genius. Uniquely, the Odyssean Ensemble performs the piece in a new performing edition created by Byrd expert Andrew Johnstone, who also contributes fascinating booklet notes. The singing is subtly accompanied by a reconstructed Tudor organ (the stunning St Teilo organ built by Goetze and Gwynn), leading the listener into Byrd's rich and colourful sound world. This recording intersperses the music of the Great Service with anthems and contemporaneous texts, read by the actor David Suchet, taken from now defunct liturgies that Byrd would have known.
Encapsulating the Canticles that were sung during the services of Matins and Evensong in the 'new' Book of Common Prayer, the music of the Great Service is of unparalleled proportions and inexhaustible variety. Byrd, as with all great composers, writes with head and heart and his vivid representations of the text, at every possible opportunity, stimulates the mind, imagination and soul of the listener.
You can purchase this CD here.
Two authoritative comments from the earlier launch at the Tower of London:
Stephen Pritchard - Observer *****
"The years fell away last week when the excellent @OdysseanMusic sang sections from this choral rarity at the Chapel of St Peter ad Vincula in the Tower of London..Such sweet music springing from such dangerous times."
Barry Forshaw – Classical CD Choice (Online Review of CD and Launch)
"For those whose image of the Tower of London is of a crowded place swarming with photo-snapping tourists, wandering by moonlight through the virtually empty courtyards is a truly magical experience — and the magic was finessed by the launch at the Chapel Royal of William Byrd: Great Service and Motets from Linn Records with Colm Carey of Odyssean Ensemble fascinatingly holding forth on the luminaries buried in the Chapel Royal and giving the assembled audience a taste of the album. As we sipped wine at the event ably curated by Anna Kenyon, Maggie Hamilton, editor of Choir & Organ (and her predecessor at the magazine Matthew Power) remarked to me how the superb acoustics of the Chapel allowed every strand of Byrd's impeccable writing for voices to shine in coruscating detail, a sentiment echoed enthusiastically by Stephen Pritchard of the Observer. The Barbican's Nick Kenyon and I were shown some of the hidden nooks and crannies of the Chapel by the personable Colm Carey, who clearly has an alternative career in store as a historian if he ever decides to abandon the human voice. Other attendees at the event included Cathy Hogg of Linn Records and Peter Quantrill of the Gramophone — all of us heading out to a glowing Tower Bridge after a very civilised evening."